Loft Conversion
The owners of this lovely Semi-Detached property required the addition of a new double en-suite room for from an unused compact loft space.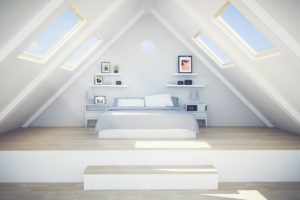 This was achievable by rebuilding and extending the roof with a dormer design and alterations to the pitched roof for a more spacious room with maximised headroom height.
An elegant new staircase addition allows for easier access to the newly converted loft space. The design incorporates a window placed above the new stairway and skylights within the loft in order to maximise light entering this delightful property.