Rear Extension & Internal Wall Removal
The owners of this lovely Semi-Detached property required a 4m rear extension and an open plan kitchen/diner area to create an airy vibrant feel from a what were once narrow tight rooms.
This design required careful planning in accordance with Fire Safety Regulations due to the open plan design of the new kitchen.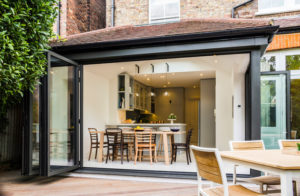 For this particular property, a steel beam resting on padstones at either end were place to support the structure above, allowing the separating wall to be eliminated from view.
For a modern touch, bi-folding doors were added with a lintel spanning the length of the new doorway to support the structure above. These crucial design changes created more space and allowed more light to encompass narrow walls of this property.